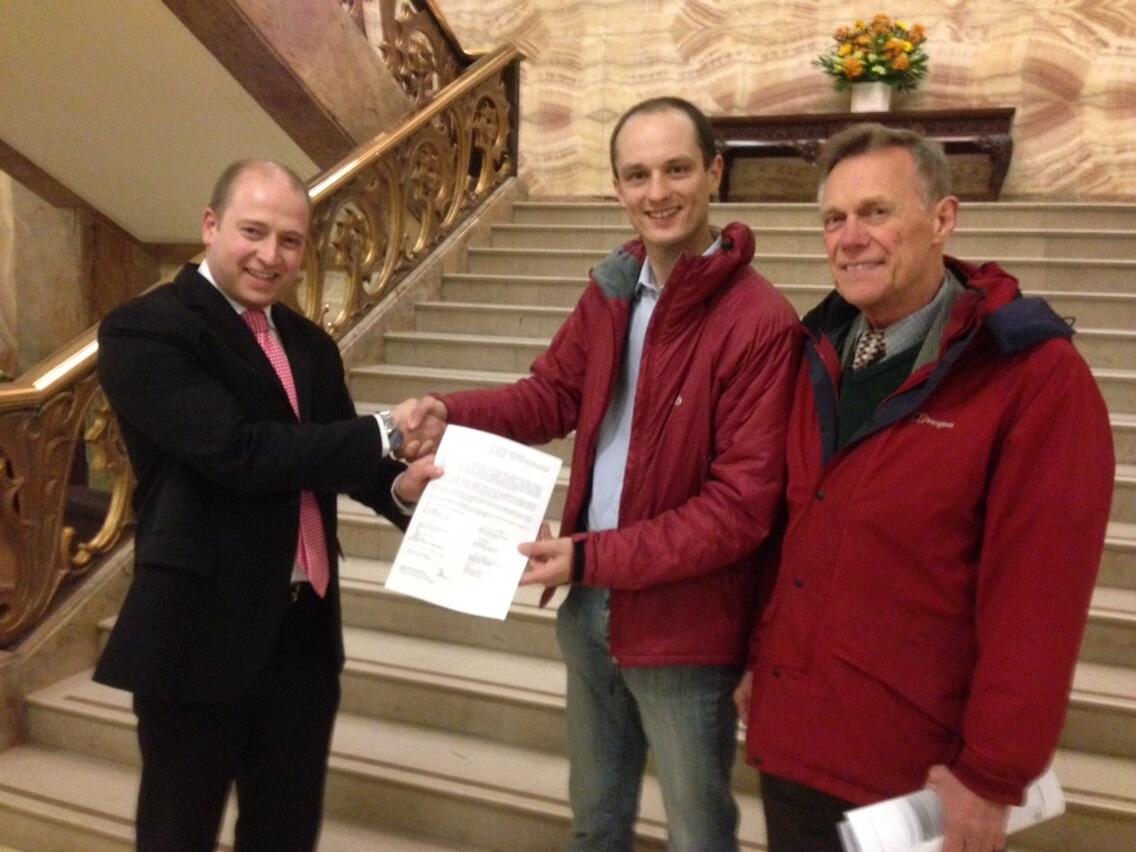 Cllr Russell King, Jon Irwin (Co-chair WEF), Robert Molteno (Secretary Wandsworth Living Streets)
Yesterday evening I went to Wandsworth Town Hall, and presented an open letter to the council.
As some of you may already know, lorries and HGVs are disproportionately involved in fatal collisions on our streets. In part due to their design, where many of the drivers have no visibility up to 4m in front of their cab.
In Wandsworth there have been 3 elderly people who have been killed by lorries in the past year, two incidents happening very close to me in Tooting.
Feb 17 2012 -
Man decapitated after being run over by lorry
May 18 2012 -
Elderly man dies after being crushed under truck
Sept 28 2012 -
Pensioner killed by lorry in Putney High Street
Aside from lorries being involved in all 3 fatalities, each of the men involved were of advanced age. Unfortunately these deaths, in part due to the age of the victims, in part to the ubiquity of death and injuries on our streets, can too often become 'invisible'.
London Cycling Campaign (LCC) launched a '
Safer Lorries
' campaign earlier this year, however, as we know from our local recent history not only cyclists are at risk from lorries on our streets. With this in mind, together with other local groups, the letter below was drafted.
I hope that the widespread support shown including; Age UK Wandsworth, Friends of the Earth Wandsworth, the Putney Society, Transition Town Tooting, Wandsworth Cycling Campaign, Wandsworth Living Streets, the Wandsworth Society, and Wandsworth Environment Forum, will help illustrate the strong desire from the local community for our council to take action which will deliver safer streets for residents, visitors and people who work in the borough alike in the long term.
We can't bring people back to life, but we can learn how to reduce road danger, in doing so help change our streets to make them safer for all. Yesterday also saw London Cycling Campaign publish the
following proposals
of how safer lorries could be designed. This is how LCC suggest they could look like based on existing technology and design principles:
You can view an animation of the lorry
here
.